lay:art crystal aqua Mixing Tray
Partially self-moistening glass mixing tray with two moistening strips.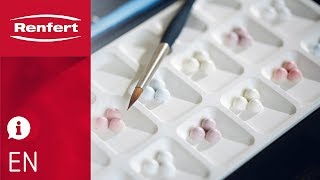 Advantages
Gentle on the brush and completely abrasion free using float glass.
Homogeneous moistening and consistency of the porcelain thanks to dimensionally stable and durable moistening strips.
Optimal moisture transport ensures there is no formation of microbubbles or porosity.
Support for lay:art crystal aqua
Picture
Product
Description
Scope of delivery
Article number
Shopping list
lay:art crystal aqua xl

Tray dimensions: 220 x 4 x 120 mm (8.67 x 0.16 x 4.73")

Housing size: 291 x 36 x 223 mm (11.47 x 1.42 x 8.79")

lay:art crystal aqua xl mixing tray, marking pen, labeling foil, 4 moistening strips
10431000
lay:art crystal aqua s
Tray dimensions: 159 x 4 x 90 mm (6.26 x 0.16 x 3.55") Housing size: 211 x 28 x 147 mm (8.31 x 1.10 x 5.79")
lay:art crystal aqua s mixing tray, marking pen, labeling foil, 4 moistening strips
10432000
| | |
| --- | --- |
| Dimensions (W x H x D) (Tray) | 220 x 4 x 120 mm | 159 x 4 x 90 mm | 8.67 x 0.16 x 4.73" | 6.26 x 0.16 x 3.55" |
| Dimensions (W x H x D) (Housing) | 291 x 36 x 223 mm | 211 x 28 x 147 mm | 11.47 x 1.42 x 8.79" | 8.31 x 1.10 x 5.79" |
| Picture | Product | Scope of delivery | Article number | Shopping list |
| --- | --- | --- | --- | --- |
| | Labeling foil crystal (aqua) xl | 3 pieces | 10430100 | |
| | Labeling foil crystal (aqua) s | 3 pieces | 10430200 | |
| | Moistening strip crystal aqua xl | 12 pieces, mounted | 10431010 | |
| | Moistening strip crystal aqua s | 12 pieces, mounted | 10432020 | |
| | Non Permanent-Marker | 2 pieces | 10441010 | |